Bitcoin's now act as a viable method of currency on the internet, this method of currency has spread to all industry on the global web including the online gambling market. BitCasino is quickly gaining popularity, in order to continue to excite their new found punters BitCasino has announced that they've entered a content supply deal with Booming Games. This full library has been ported over to this casino.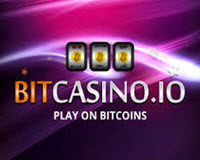 That means that BitCasino punters now have access to all twenty one casino games developed by Booming Games. All of their games are available in a desktop & mobile format which allows for their slots to be played during any moment of the day. Booming Games has created well known slots such as Fort Knox, Marketplace and Ice World. All new slots developed by Booming Games will also be added to BitCasino the day those slots are released.
The Spokesman for BitCasino commented on this deal stating, "Our slots are of the highest quality in terms of graphics, usability and 3D Animations. The portfolio of games we offer provides an immersive experience that we believe bitcoin-only punters will fall in love with. Regardless if their playing on a desktop or mobile device." The Spokesman also noted in his statement that he's confident their diverse mixture of classic and high end gambling features will mix well with gamblers. Those wishing to have their chance at the Booming Games platform can do so today by signing up with BitCasino. These games have already begun to gain popularity in the few days that they've been at BitCasino. Their popularity will only continue to rise upwards in the following weeks.